Glass Cleaner
Regular price

Starting at

$17.95

Starting at

$17.95

Regular price

Starting at

$17.95

Unit price

per
Keep your windows sparkling and protected with this TINT-SAFE, EASY-TO-USE car glass cleaner. Removes dirt, dust, fingerprints, grease, oil, and grime. No left-over residue, no streaking, and no fuss!
Use Nexgen Glass Cleaner on your car to make your windows and mirrors SPOTLESS so you can drive safely in any condition. It contains static-inhibiting agents that help resist dust that is attracted to the surface due to the charge generated by rubbing the surface with a towel. Nexgen Glass Cleaner helps to dissipate the charge so that once clean, your glass stays that way for as long as possible!
This VERSATILE glass cleaner is perfect for all auto dashboards, windows, windshields and mirrors.
The ADVANCED formula of Nexgen Glass Cleaner is mixed without volatile chemicals, harsh cleaners, or caustic ingredients, ensuring your expensive car tint gets the most delicate, yet thorough cleansing experience possible. No more streaks!
Instructions

1. Surface should be cool to the touch.

2. Spray directly onto towel.

3. Use clean, dry microfiber towel folded into a square to clean the glass.

4. Use a consistent horizontal motion during application process until glass is clean.

5. Refold towel if it gets too wet and leaves streaks.
Shipping & Delivery

Free standard shipping on any order above $75.

With a Nexgen VIP Membership, you will receive FREE shipping with every order.

Otherwise, shipping cost will be determined by the quantity of product in your order, and packages are primarily carried by DHL. Your shipping and satisfaction are guaranteed, and we have a simple money-back promise if, for any reason, you're not totally happy with your Nexgen products.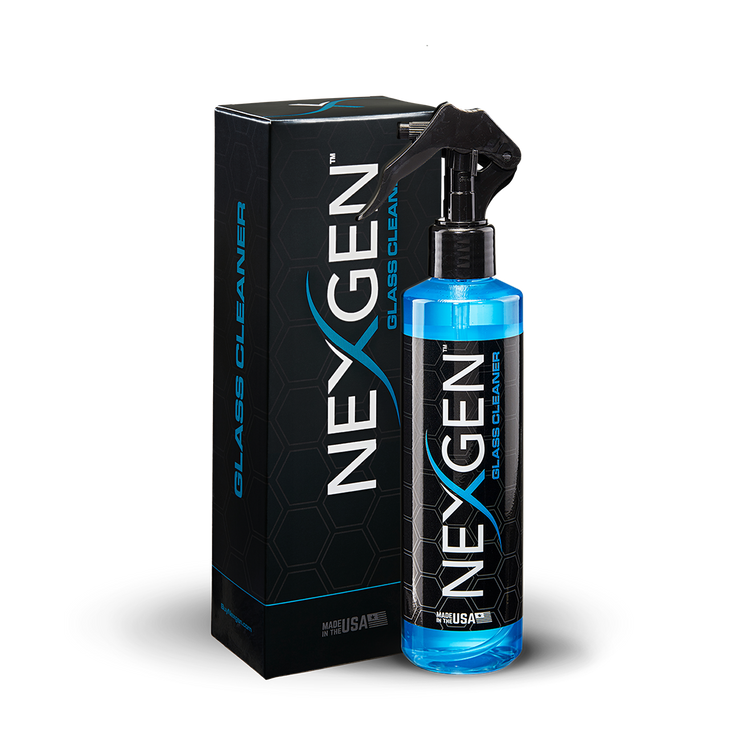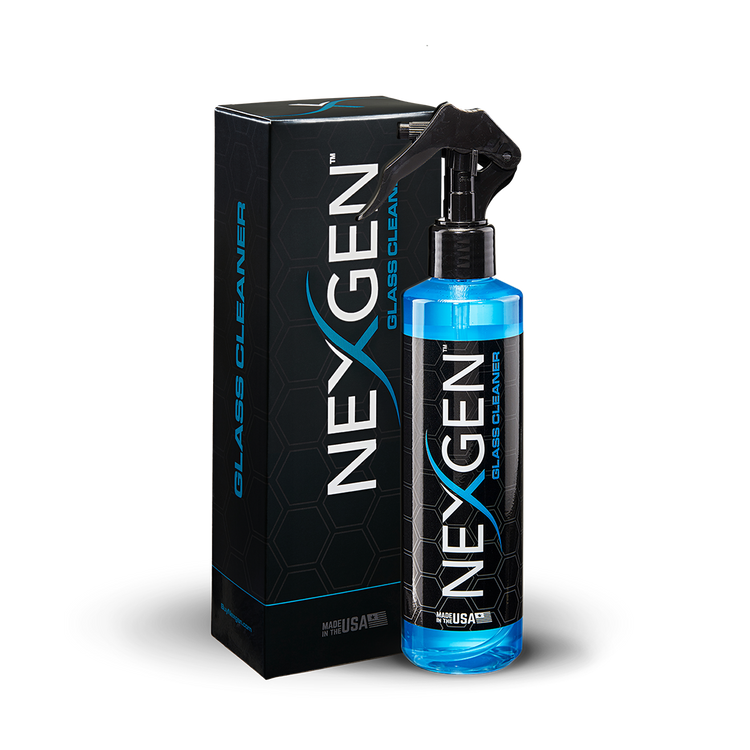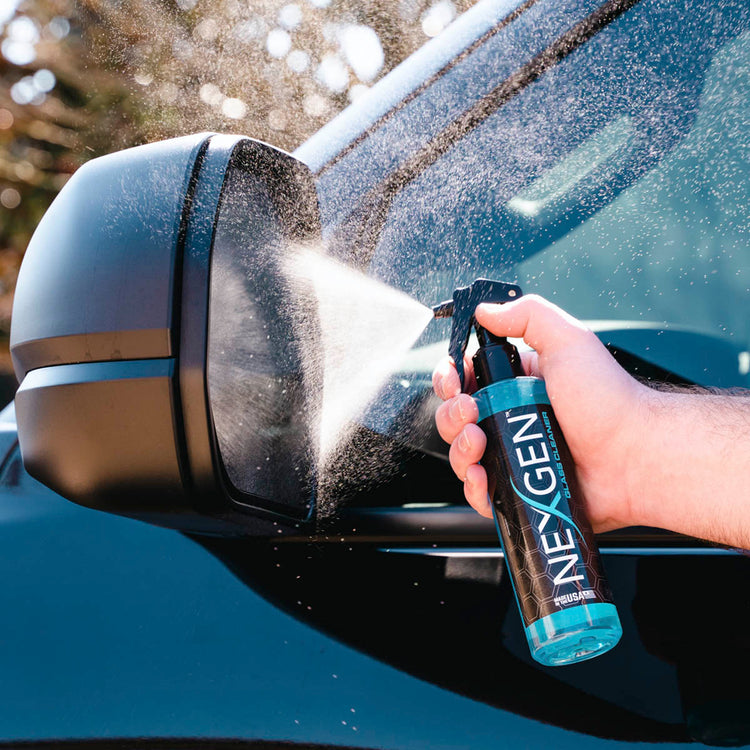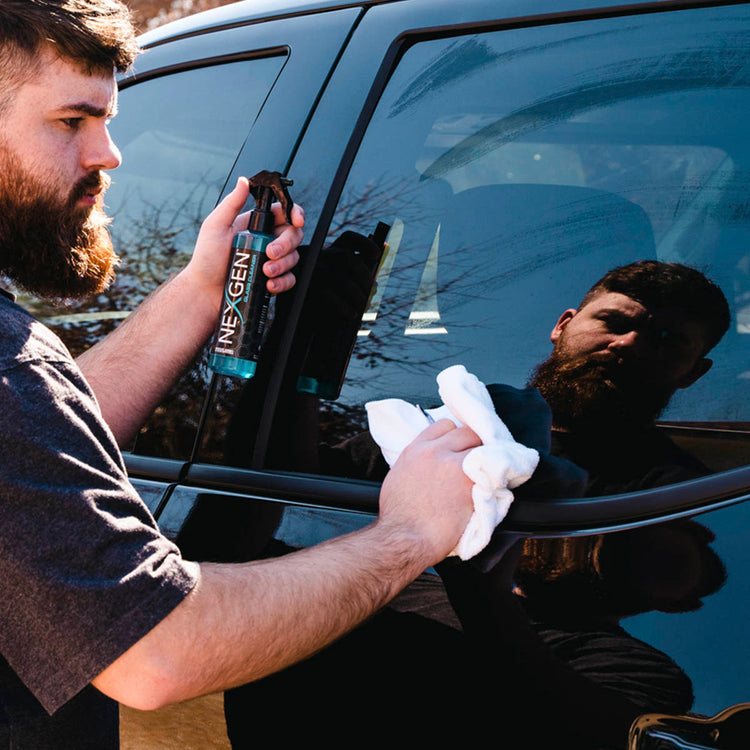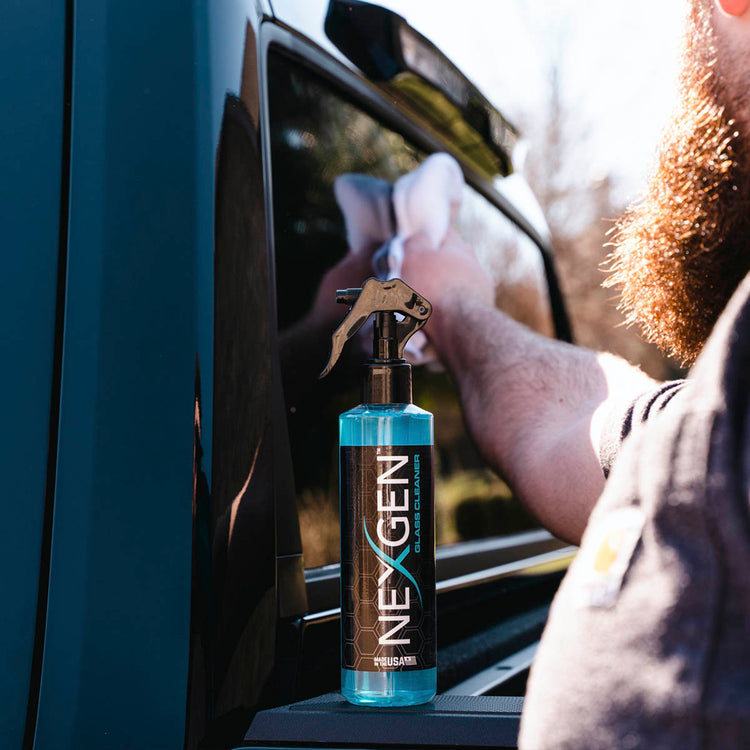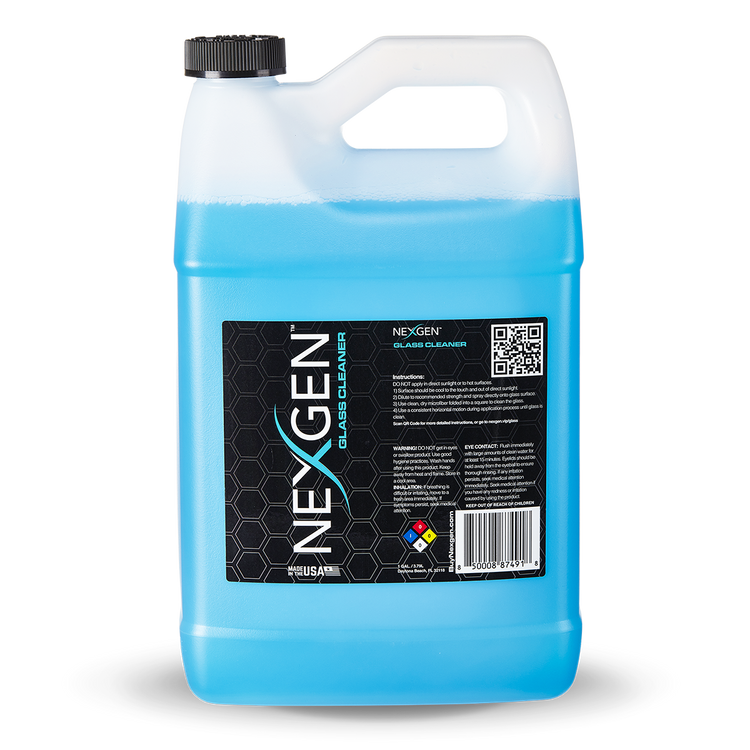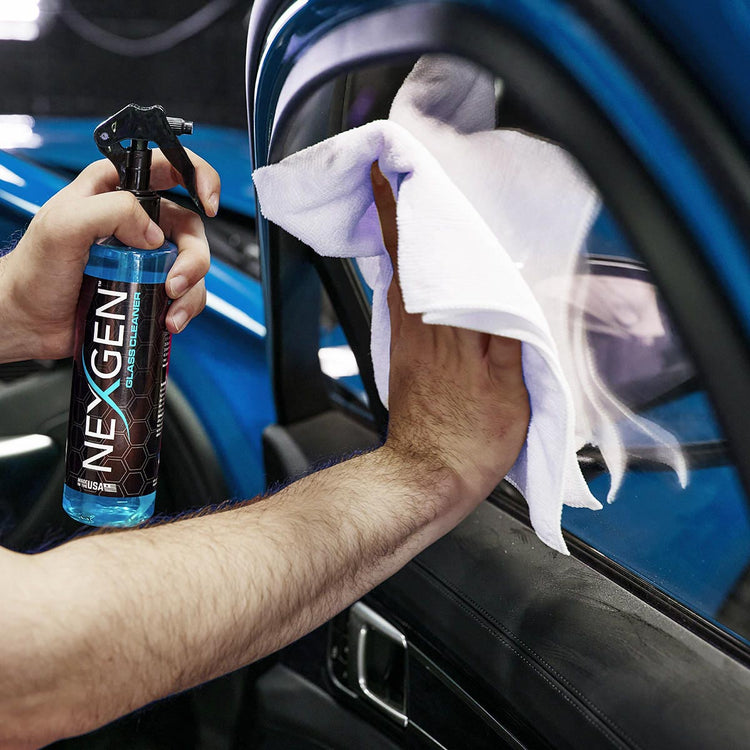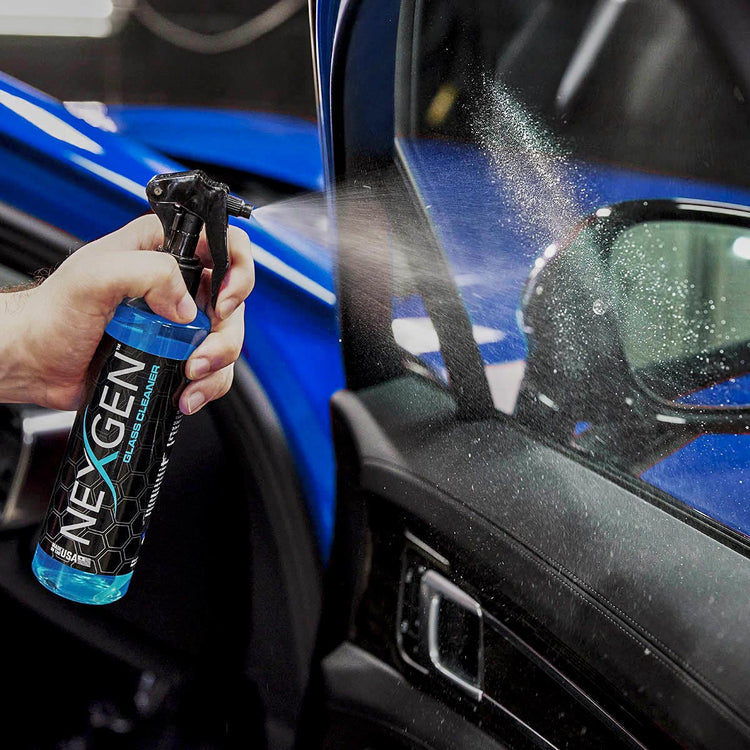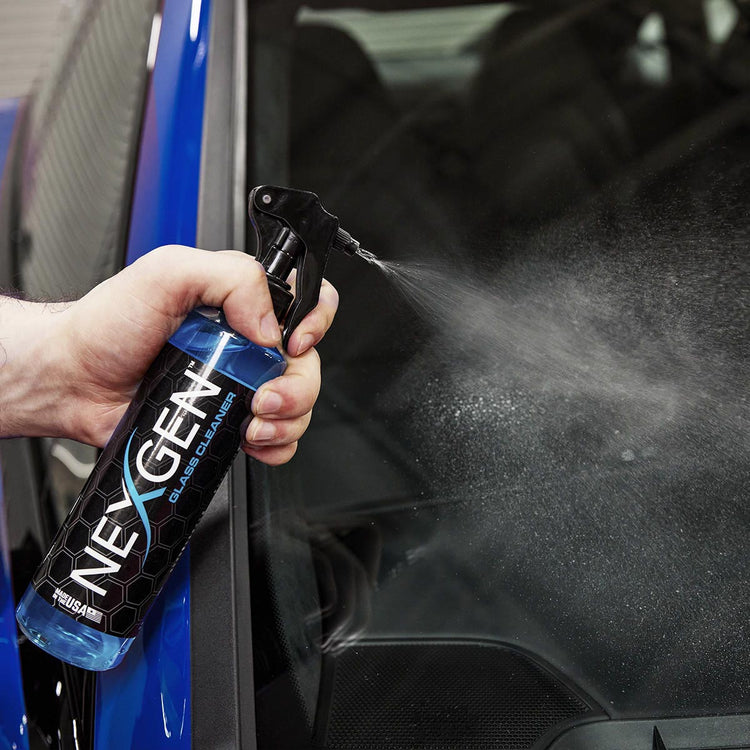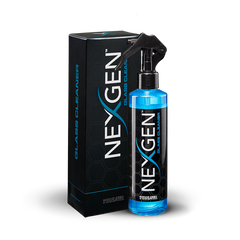 Regular price

Starting at

$17.95

Starting at

$17.95

Regular price

Starting at

$17.95

Unit price

per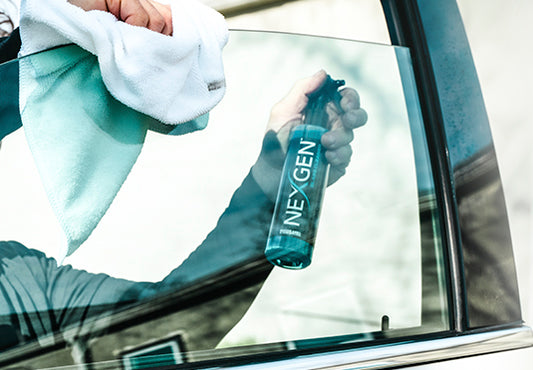 PROTECT YOUR INVESTMENT
Safe for Window Tint
Nexgen Glass Cleaner is free of ammonia and other chemicals that can degrade glass tinting and decal adhesion.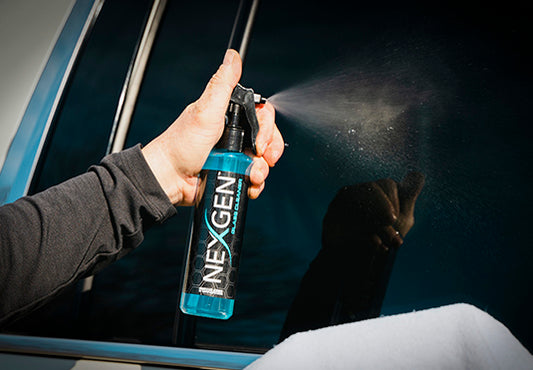 POWERFUL AND EFFECTIVE
No Streaks Left Behind
Our concentrated formulation of high-quality ingredients lifts dust and fingerprints off safely and effectively, leaving glass totally pristine.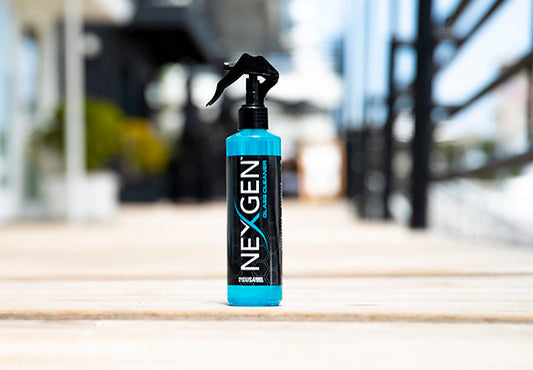 QUICK AND EASY TO USE
Painless Application Process
This product takes all the labor out of cleaning your glass. Just spray on, wipe off, and enjoy maximum visibility.
MADE FROM THE BEST, USED BY THE BEST
Fastest application time of any product on the market
Simple spray-on, wipe-off method

Powerful enough to remove tough blemishes without damage

Streak-free shine improves visibility for windows, mirrors, and more

Versatile formula that can be used on any glass or painted surface