Quick Detail Spray
Regular price

Starting at

$19.95

Starting at

$19.95

Regular price

Starting at

$19.95

Unit price

per
Nexgen Quick Detail Spray is the perfect finishing product for the car enthusiast. Use this detail spray for spot removal, clay bar lubrication, and instant detailing.​
Featuring a carefully blended formula of HIGH-GRADE lubricants, polymers, and cleaners, this VERSATILE detail spray adds a STUNNING glossy finish that is smooth to the touch. 
With its lubricating anti-static components, Nexgen Quick Detail Spray removes light dust and fingerprints in no time. It works on any hard or non-porous surface, keeping your paint scratch-and-swirl-free for longer.
Did we mention how EASY it is to use? Just mist the surface and wipe away the dirt with a microfiber towel.
Whether you're cleaning up some bug splatter, doing a full wipe-down, or your quarterly clay bar detail, make sure Nexgen Quick Detail Spray is in your detailing kit!

Instructions

Spot Cleaning/Shine-Restoring Wipe-Down​

Shake bottle well, and ensure the vehicle's surface is cool to maximize effectiveness.​

Liberally mist Nexgen Quick Detail Spray onto area of interest.​

Use a clean microfiber towel to distribute the product around the area and begin to lift some of the impurities from the paint. ​

Flip the towel over to the dry side, or use another towel, to dry. ​

Clay Bar Detail ​

Wash car completely. ​

Spray a generous amount of Nexgen Quick Detail Spray onto a single body panel.​

Work the clay bar into the lubricated body panel using back-and-forth motions. Continue until you no longer feel resistance against the clay bar.

Wipe up excess liquid with a clean microfiber towel, and repeat steps 2-3 across all body panels. ​

Shipping & Delivery

Free standard shipping on any order above $75.

With a Nexgen VIP Membership, you will receive FREE shipping with every order.

Otherwise, shipping cost will be determined by the quantity of product in your order, and packages are primarily carried by DHL. Your shipping and satisfaction are guaranteed, and we have a simple money-back promise if, for any reason, you're not totally happy with your Nexgen products.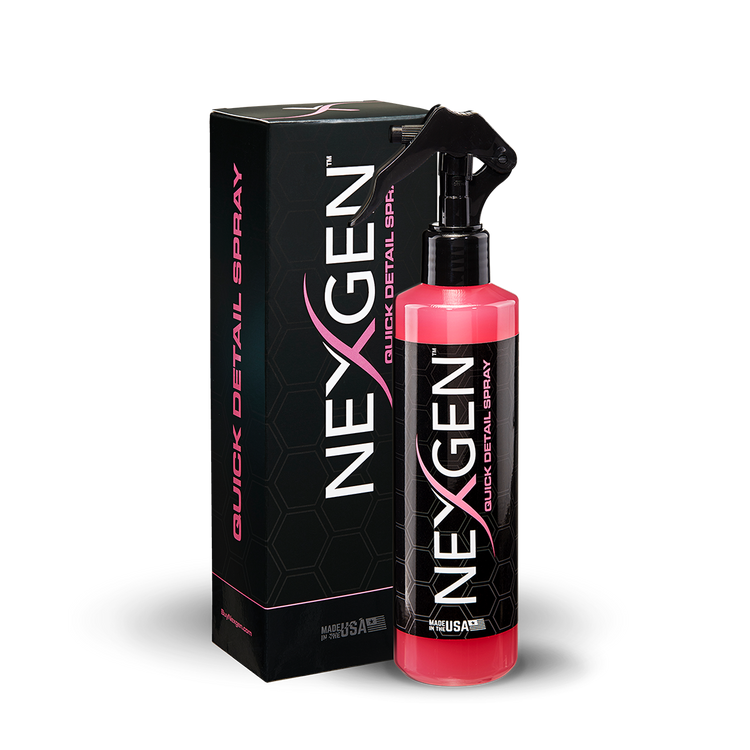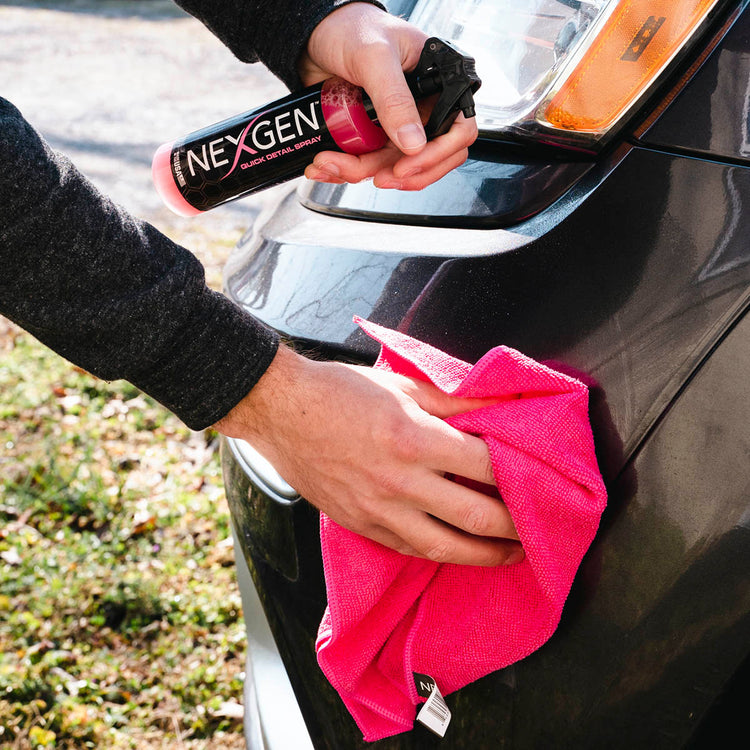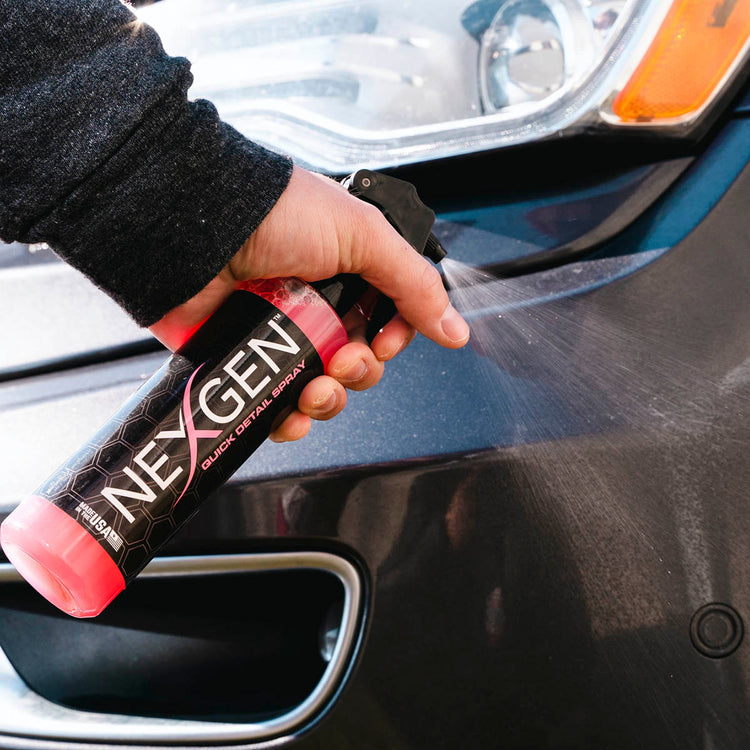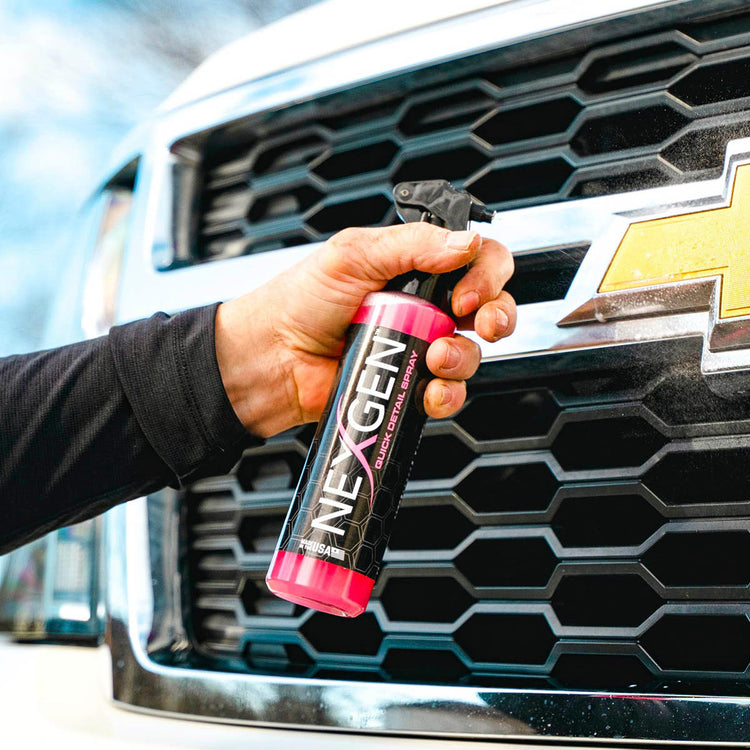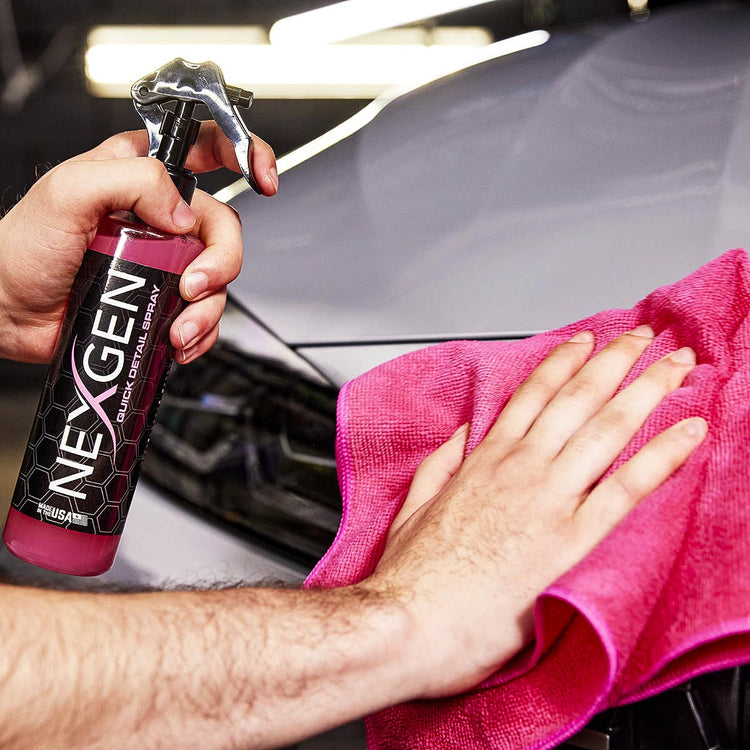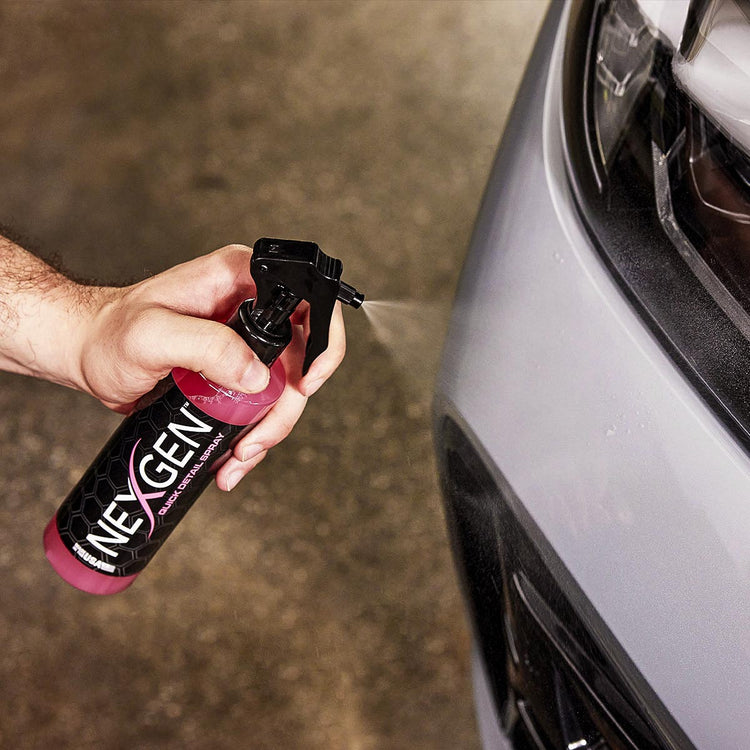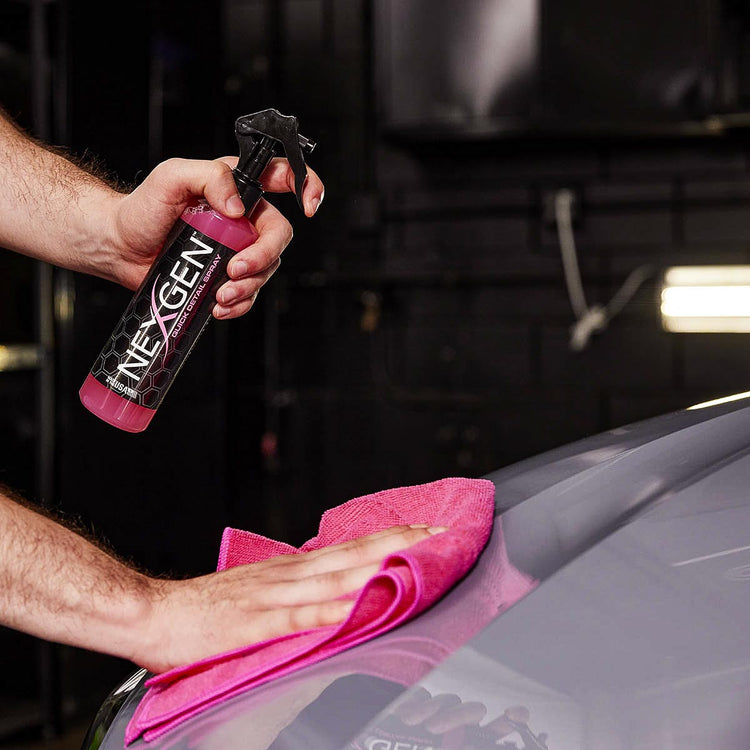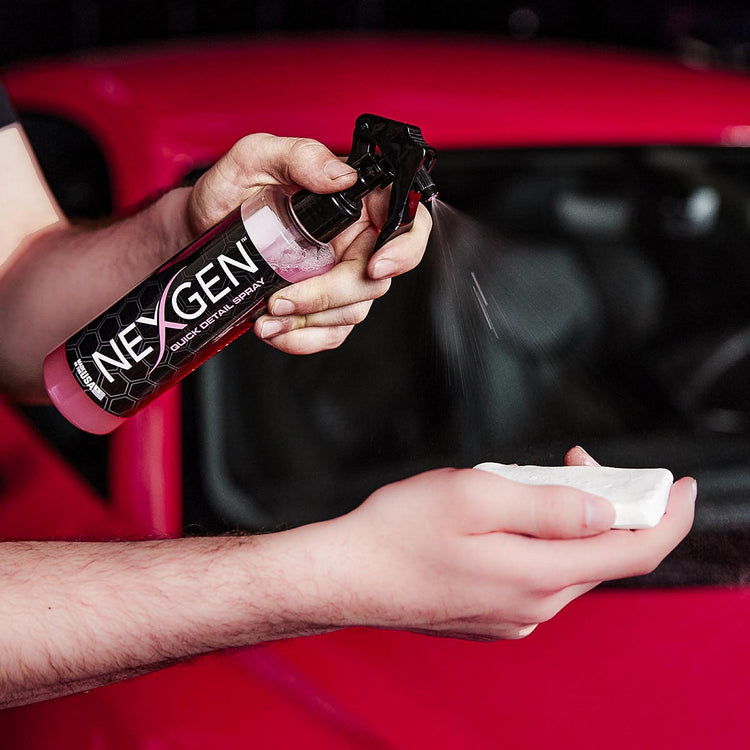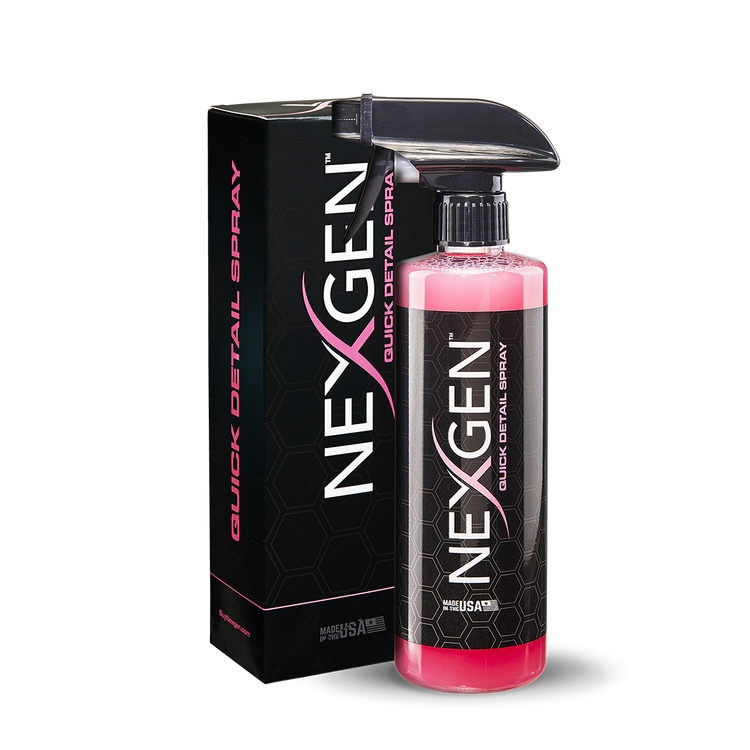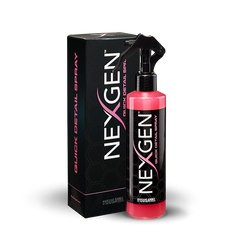 Regular price

Starting at

$19.95

Starting at

$19.95

Regular price

Starting at

$19.95

Unit price

per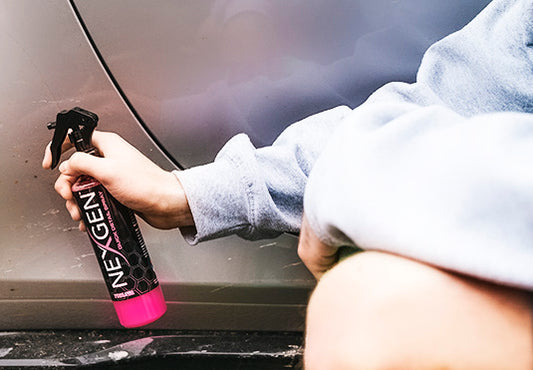 CRAZY EASY APPLICATION
3 Simple Steps
All it takes for high gloss and ultimate detailing is 1. Spray on 2. Wipe in 3. Buff out. Done.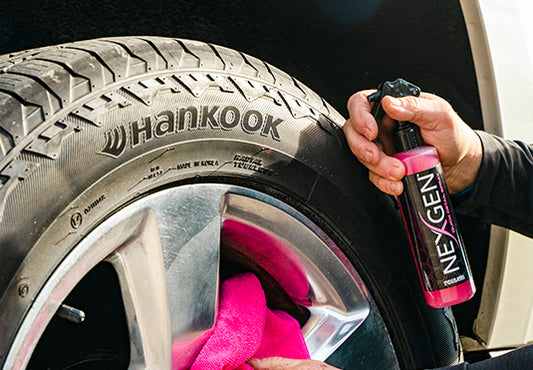 TONS OF DIFFERENT USES
Use on All Surfaces
Quick Detail Spray is usable on any exterior surface of your vehicle for quick touch ups, clay bar details, and more.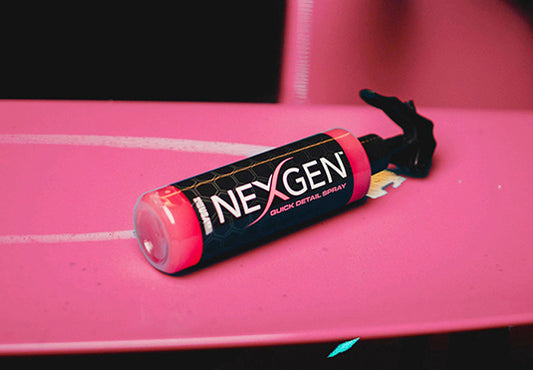 PHARMACEUTICAL GRADE INGREDIENTS
High-Quality Formulation
Ingredients were carefully selected and only the best of the best are used. You can count on streak-free, high-gloss results.
MADE FROM THE BEST, USED BY THE BEST
Fastest application time of any product on the market
Both cleans and leaves behind a lustrous shine that is unmatched

Simple spray-on, wipe-off application

Gentle yet powerful formulation lifts dirt and leaves paint smooth

Top-grade ingredients guarantee great results