Nexgen Pro Paint Correction Compound Kit
Regular price

Starting at

$161.95

Starting at

$161.95

Regular price

Starting at

$161.95

Unit price

per
The Nexgen Pro Paint Correction Compound Kit has everything you need for paint correction.  This is for detailers and professionals looking for a simplified paint correction system that offers customizability, reduced cleanup time, and improved results.

This kit includes the following products and comes in 16oz or 32oz sizes.

1000 Deep Cut - a heavy-duty cutting fluid designed to increase tool life and improve surface finish when machining tough materials.
2000 Heavy Cut - a high-performance cutting fluid designed for tough materials such as steel, stainless steel, and titanium.
3000 Medium Cut - a high-performance cutting fluid designed for a range of materials such as aluminum, steel, and titanium.
4000 Polish - a high-performance metal polishing compound designed to provide a mirror-like finish on metals such as aluminum, stainless steel, brass, and copper.
4500 1-Step Polish - a multi-purpose metal polishing compound designed to remove surface imperfections and provide a high-gloss finish on a range of metals.

All of these products are formulated with wetter, water-based formulas, making them user-friendly and reducing mid-work cleanup time. The water-based formulas also offer a longer working duration, allowing detailers more time to perfect their work. The gloss rating is greatly improved with water-based formulas, and the wetter formulas keep the products from getting chalky, reducing dust throw and residue.

Experience improved results and reduced cleanup time with the Nexgen Pro-Compound Paint Correction System.
Instructions

Only professionals should be using compounds as paint damage can occur without proper process. You'll need to make sure the paint is prepped, and you are using the right type of pad for each buffer. Instructions for each product vary. Please see individual products for instructions or reach out to us at support@getnexgen.com.
Shipping & Delivery

Free standard shipping on any order above $75.

With a Nexgen VIP Membership, you will receive FREE shipping with every order.

Otherwise, shipping cost will be determined by the quantity of product in your order, and packages are primarily carried by DHL. Your shipping and satisfaction are guaranteed, and we have a simple money-back promise if, for any reason, you're not totally happy with your Nexgen products.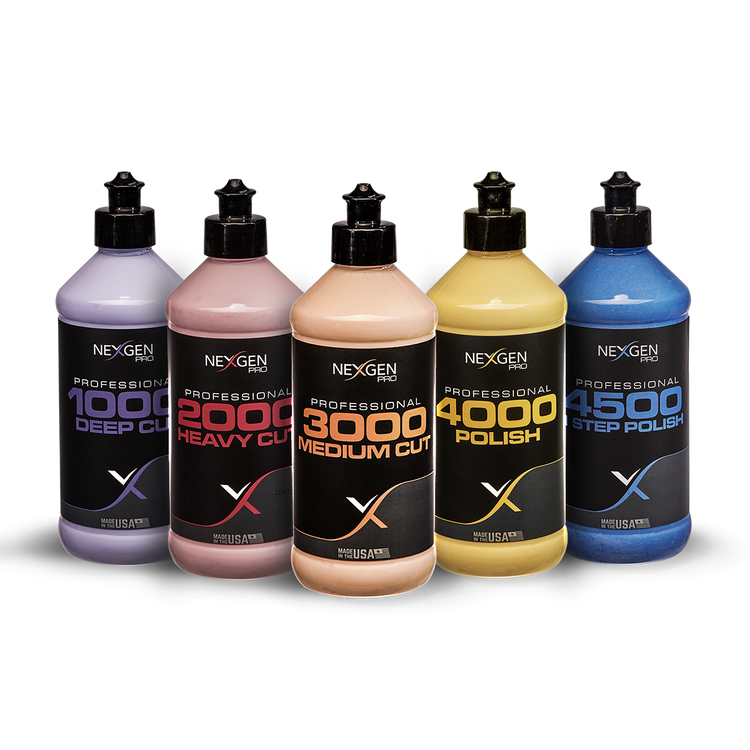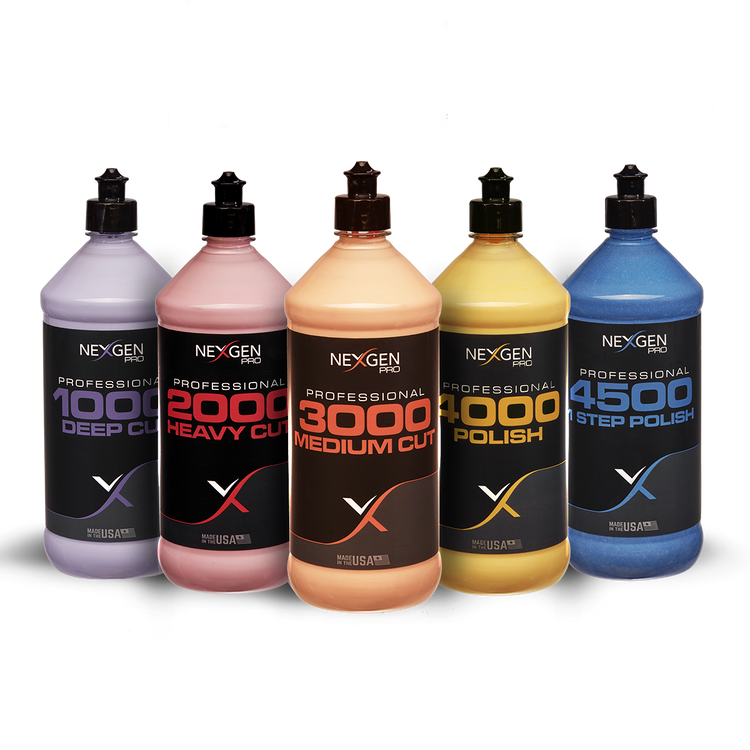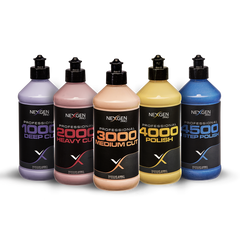 Regular price

Starting at

$161.95

Starting at

$161.95

Regular price

Starting at

$161.95

Unit price

per