Ceramic Wash Kit
Regular price

Starting at

$158.00

Starting at

$158.00

Regular price

Starting at

$158.00

Unit price

per
The Ceramic Wash Kit has been created for anyone who wants the BEST when it comes to washing their car. Containing 3 bottles of ceramic car soap, a low-pressure foam washer and a premium chenille wash mitt, it has everything you need to give your car the most luxurious wash of its life.
The Ceramic Wash Kit is designed to give the user a complete wash, from start to finish. It can be used by professionals, enthusiasts and DIYers alike. Packed with some of the HIGHEST QUALITY detailing products available on the market today, it offers ceramic protection and helps you save time and money while washing your car.
Here's what you get with the Ceramic Wash Kit:
3 Nexgen Ceramic Soap 8oz Bottles

 Nexgen Low-Pressure Foam Gun

 Premium Chenille Wash Mitt
Nexgen Ceramic Soap combines SiO2 ceramic technology with high-quality car wash soap, allowing you to build (or strengthen) your ceramic coating while you wash your vehicle. This UNIQUE product is a favorite among die-hard Nexgen fans, and gives your car a protective layer you can't find from any other soap products. It's perfect for treating your car to a gentle, yet deep clean, as well as shine it up to an unbelievable finish.
Our Nexgen Low-Pressure Foam Gun allows you to apply the soap evenly over large areas of your vehicle such as the wheels, tires and lower panels. It creates thick, foamy suds that are evenly distributed and ready to clean your ride. Just fill up the barrel of the foam blaster with room temperature water, add 2oz of our Nexgen Ceramic Soap, and screw on the cap. Our foam gun is a MUST-HAVE if you love washing your car (or just want to make it faster and easier!)
Our Premium Chenille Wash Mitt is made up of plush microfiber bristles that hold 3x MORE soap and water than normal wash mitts. Advanced synthetic material keeps your hand comfortable while using the wash mitt for up to 30 washes. Best of all, it's guaranteed not to scratch your surface. The gentle microfiber bristles are designed to spread soap and water without damaging your paint or clear coat.
For those looking to transform their car into an immaculate ride, the Nexgen Ceramic Wash Kit has all of the tools needed in order to get started!
Click here for instructions on how to use the foam gun.

Shipping & Delivery

Free standard shipping on any order above $75.

With a Nexgen VIP Membership, you will receive FREE shipping with every order.

Otherwise, shipping cost will be determined by the quantity of product in your order, and packages are primarily carried by DHL. Your shipping and satisfaction are guaranteed, and we have a simple money-back promise if, for any reason, you're not totally happy with your Nexgen products.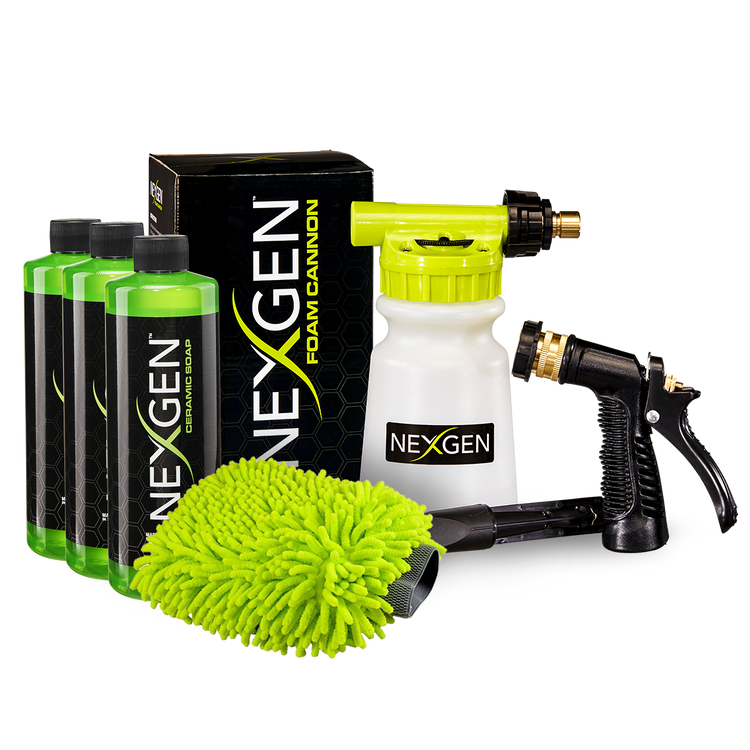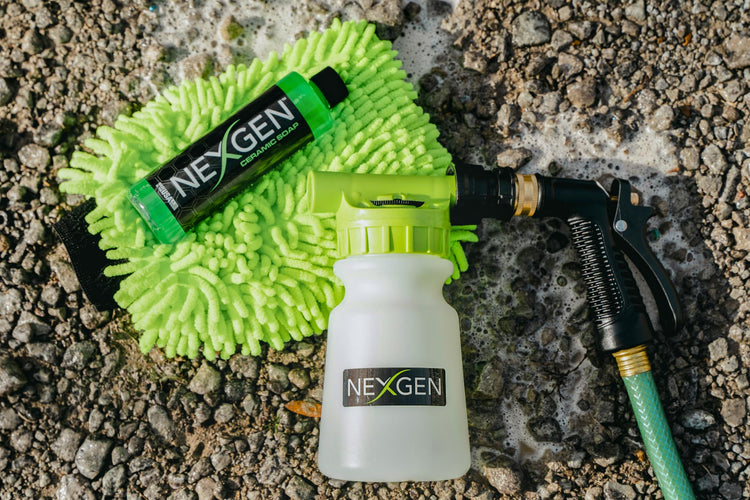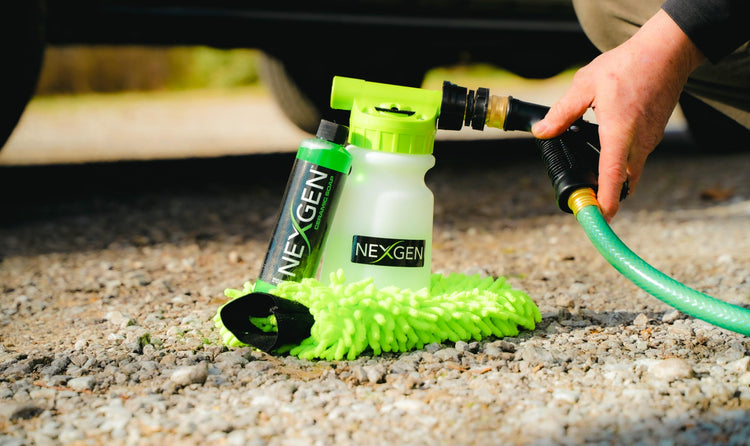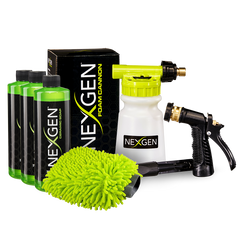 Regular price

Starting at

$158.00

Starting at

$158.00

Regular price

Starting at

$158.00

Unit price

per