Ceramic Soap
Regular price

Starting at

$28.00

Starting at

$28.00

Regular price

Starting at

$28.00

Unit price

per
When it comes to cleaning your car, this soap is THE ULTIMATE product that cleans and shines at the same time. Nexgen Ceramic Soap builds and restores ceramic coating while you wash!​
Make way for THE BEST dual-action auto wash on the market! 
Formulated with TOP-GRADE, pH-balanced emulsifiers and surfactants that lift and guide dirt off of paint, Nexgen Ceramic Soap is also infused with our secret ingredient: SiO2, aka silicon dioxide. 
A quick spray of our ceramic wash soap creates a thick, luxurious lather that breaks down and lifts dirt particles on contact. The result is a deep clean that leaves your car's paint shining and scratch-free. It's PERFECT for tires, windows, and bodywork, and ideal for cars with full ceramic coating to maintain high properties of protection.

Our Ceramic Soap works great with a high-pressure or low-pressure foam gun, or with the traditional two-bucket car wash method.
Instructions

Bucket Wash​

Rinse car with fresh, clean water. ​

Get two buckets, fill with water, place grit guard in the "rinse" bucket.​

Pour 2 oz. of Nexgen Ceramic Soap into the "soap" bucket, mix until sudsy.​

Using a clean sponge or chenille wash mitt, apply the soapy mixture to your vehicle using the "Top Down" method of application.​

After each panel, use the rinse bucket to clean off your sponge or wash mitt. ​

Repeat steps 4-5 until car is washed. ​

Rinse vehicle, then dry with microfiber towel. ​

Low-Pressure/High-Pressure Wash​

Rinse car with fresh, clean water.​

Fill reservoir with 2oz. of Nexgen Ceramic Soap, fill remainder with clean water. ​

Foam car thoroughly with the foam gun/pressure washer, then let sit for 3 minutes.​

Rinse vehicle, then dry with a microfiber towel.​

Shipping & Delivery

Free standard shipping on any order above $75.

With a Nexgen VIP Membership, you will receive FREE shipping with every order.

Otherwise, shipping cost will be determined by the quantity of product in your order, and packages are primarily carried by DHL. Your shipping and satisfaction are guaranteed, and we have a simple money-back promise if, for any reason, you're not totally happy with your Nexgen products.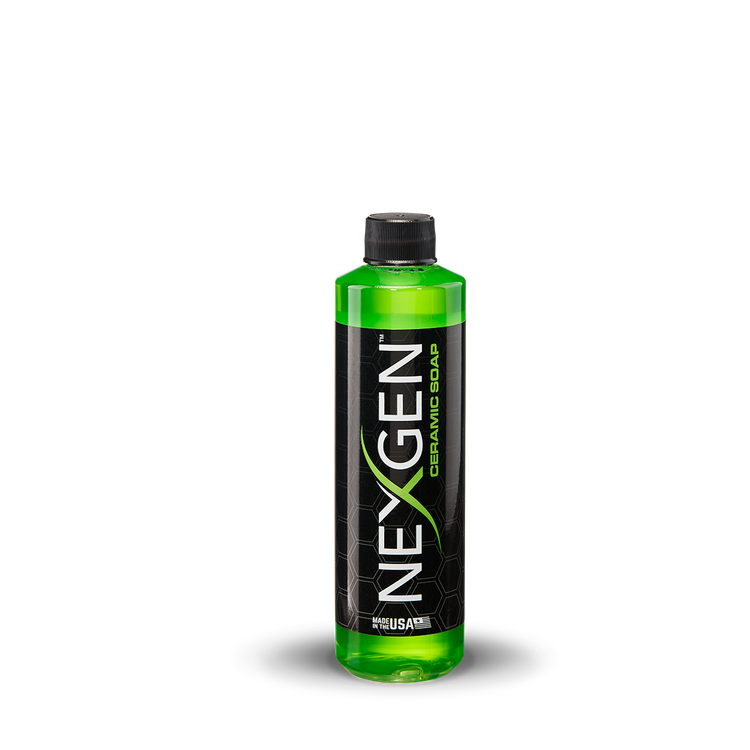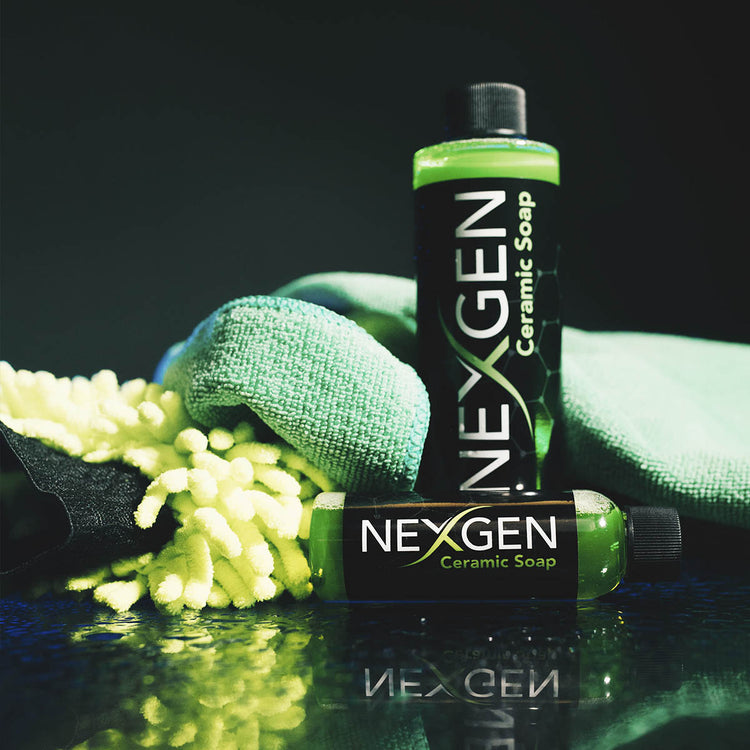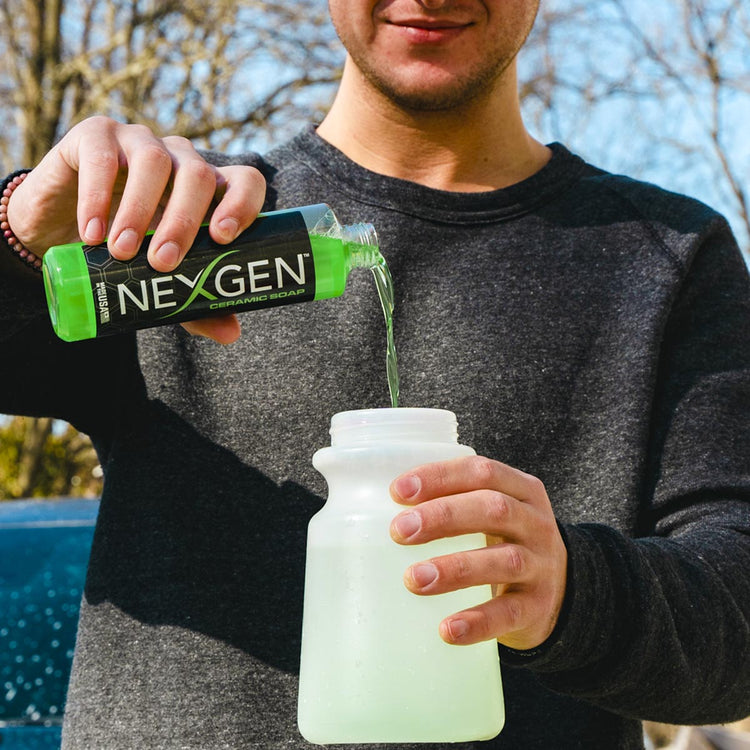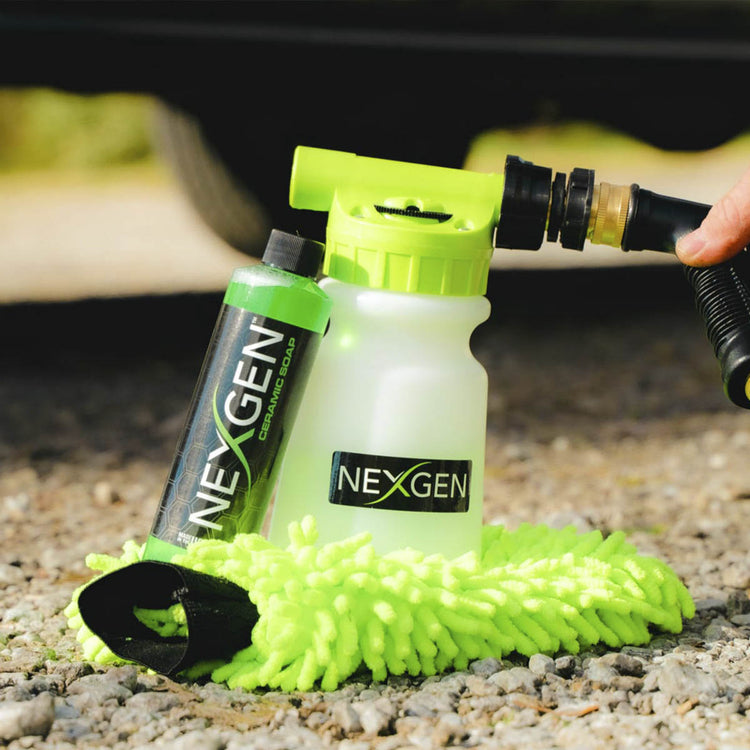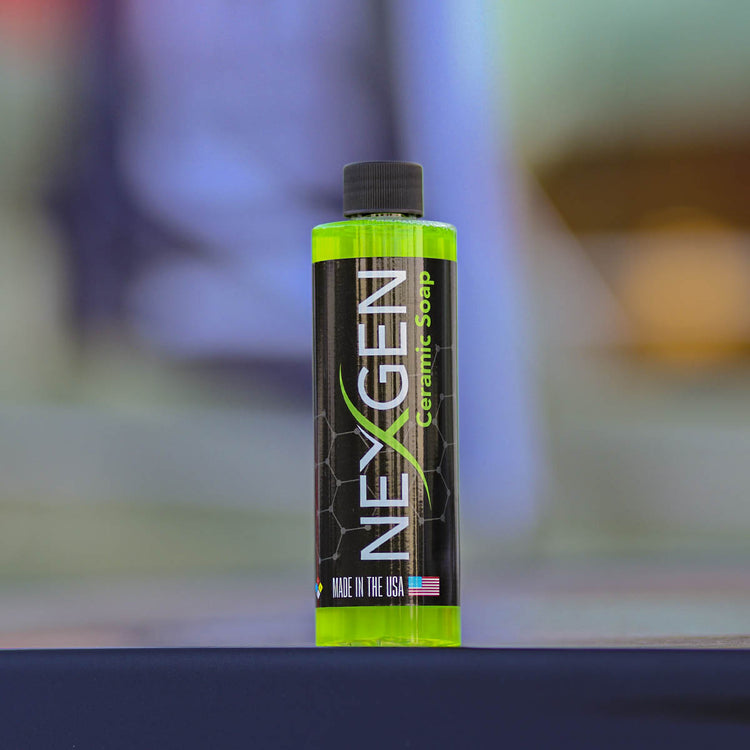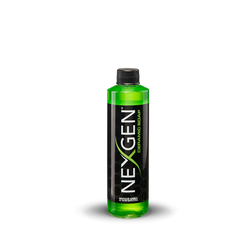 Regular price

Starting at

$28.00

Starting at

$28.00

Regular price

Starting at

$28.00

Unit price

per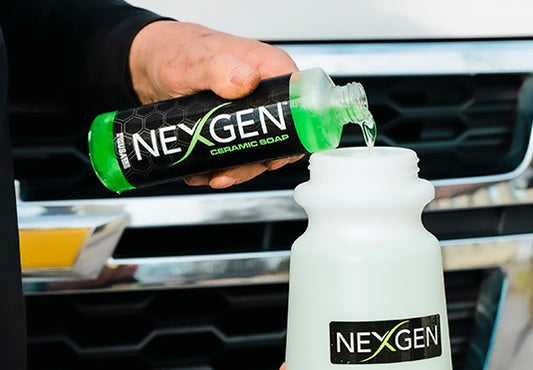 CLEANS AND PROTECTS
Dual Action Solution
Ceramic Soap is formulated with high-quality SiO2 to leave behind an undeniable shine and great protection.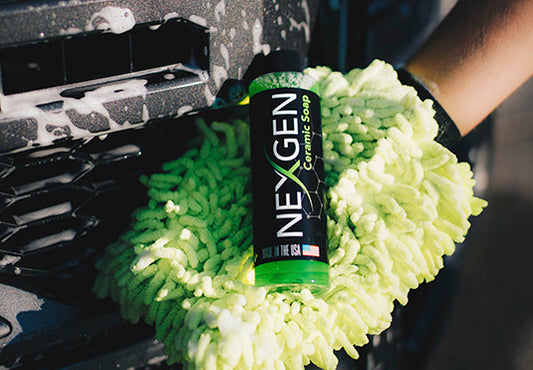 A LITTLE GOES A LONG WAY
Concentrated Formula
Only 1-2 ounces is required for a complete wash. Say goodbye to single-use auto soaps and get your money's worth with Ceramic Soap.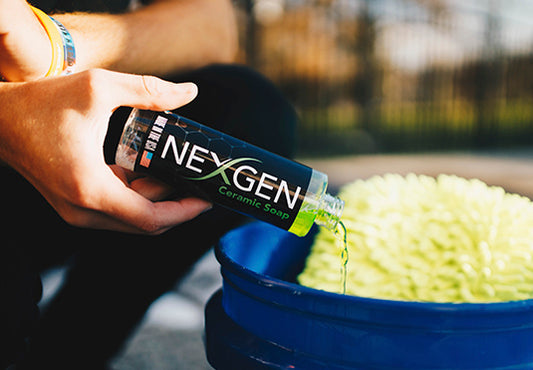 THE ULTIMATE IN VERSATILITY
Use Any Wash Method
This auto soap works great with a traditional 2-bucket wash, low- or high-pressure washers, and many other methods.
MADE FROM THE BEST, USED BY THE BEST
Fastest application time of any product on the market
Applies top-grade silicon dioxide to give you mirror-shine

Used and loved by detailers all across the country

Dual-action car soap that emulsifies dirt and deposits ceramic

VOC compliant and will not harm the environment